If you're looking for a complete suit of leather body armour and you've found your way here, to Medieval Armour, then you've found the right place. Here, you'll find a number of great leather armour sets, which are not only perfect for keeping you protected behind layers of intimidating leather armour, but are also great for making you look like a true warrior. Each of these leather armour sets contains virtually everything you need to put together a protected look fit for any warrior, whether he was medieval or fantasy. Some of these leather armour packages, like our Dark Elven package and our King package, also include tunics and other garments, which help to complete the total image that the armour package helps to create! Other suits of leather armour contain all the distinctive pieces that typically go into suit of armour, only made entirely of leather! This mean that some sets contain the pauldrons, cuirass, vembraces, and greaves you need to transform yourself into a leather armoured warrior fit for action! Some suits of leather armour found here are suited more for LARP and for reenactments, while others can be ordered in a heavier weight that allows them to be used in SCA events. If you think that putting together your own entire suit of leather armour is too much hassle, then check out this Leather Armour Packages and Leather Armour Sets section of Medieval Armour, where you'll find that we've taken most of the hassle out of putting together your full suit of leather body armour. All you have to do is find the one you like most, fill in whatever holes it might have (if any), and you're done.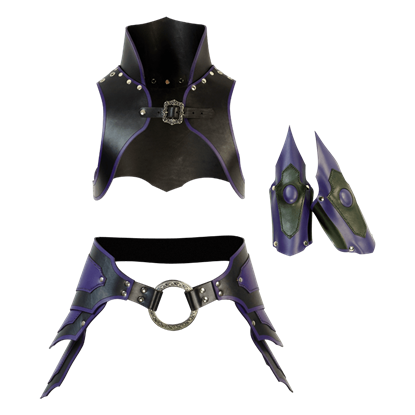 Item # DK7016
Radiate an aura of unparalleled magical might with the enchanting appeal of the Dark Sorceress Fantasy Armour Set. This armour is perfect for LARPing ladies who wish to display the resplendent spellweaving skills of their character.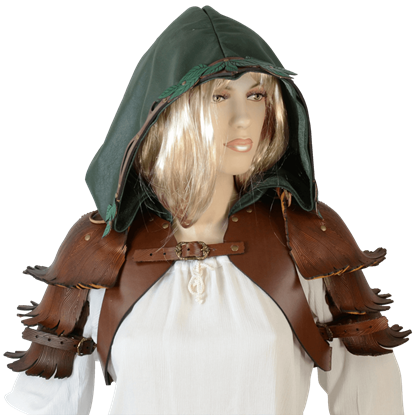 Item # DK7014
Accentuate your combat attire with the arborescent mystique of the Hooded Woodland Bolero Jacket with Pauldrons, which features pauldrons resembling tree bark and an exquisite green leather hood with ornate nature themed adornments.